We had covered reports about Syrian Electronic Army for the past few weeks of its hacktivism against
large companies
.
The hackers supporting the government of Syria, and its president  Bashar al-Assad has also hacks Twitter, NYTimes and the Huffington Post few hours ago.
It accordingly started when the infamous hacking group started to tweet twitter saying, "Hi @Twitter, look at your domain, its owned by #SEA :)" and posted a screenshot of it.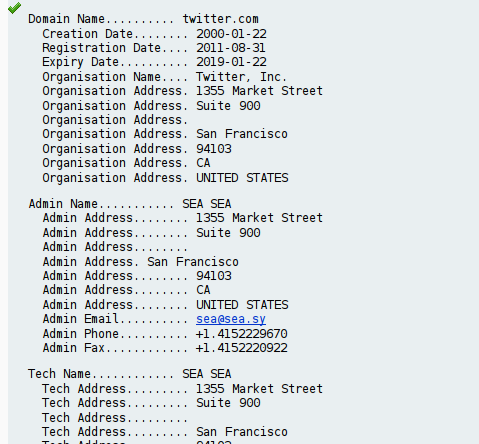 "@Twitter, are you ready? #SEA" a tweet followed with a screen grab again of list of Twitters domain name.

If the Syrian Electronic Army has able to change the domain information of twitter so it could also be assumed that they have the ability to completely change the DNS of the website then point it to shady websites.
The DNS of a domain(twimg.com) which is also owned by Twitter used to host images, javascript files, images, cookies and other data.
A subdomain of HuffingtonPost's whois and DNS are as well altered and the paper, New York Times where reports even suggest that its homepage has redirected somewhere else.
Twitter in an official announcement, only addressed to "twimg.com" downtime reads, "At 20:49 UTC, our DNS provider experienced an issue in which it appears DNS records for various organizations were modified, including one of Twitter's domains used for image serving, twimg.com. Viewing of images and photos was sporadically impacted. By 22:29 UTC, the original domain record for twimg.com was restored.  No Twitter user information was affected by this incident."
Source: ThenextWeb.